Find your calling
Set high goals and then push yourself towards higher ones. In the BBA program, you'll forge your own path based on your interests and intellectual callings. Start with a strong foundation in the liberal arts, and further develop your problem solving and analytical skills in business core courses. As you start to build your business acumen, you'll experience the rewards of putting your ideas into action. From there, the sky's the limit. Explore uncharted territory in our more than 70 elective offerings in the business school while retaining access to all Emory has to offer. Where will you go?
The outline below is a suggested method for satisfying the general education requirements (GERs) while also completing undergraduate BBA prerequisite courses. You should plan to enter the BBA Program after completing most of your GERs.
In addition, some BBA core classes count towards fulfilling the GERs for BBA students. There is sufficient flexibility in the BBA curriculum to complete your remaining requirements, if necessary.
Area I. First Year Seminar (FSM) (Emory College students only.)
Area II. Freshman English/Writing Requirement (FWR) (One course) Please note: ENG 101, ENG 181, LIT 110, ENG 185 (Oxford) and AP English all fulfill this area.
Area III. Continuing Writing Requirements (CWR) (Three courses, grade of C or better)
1 CWR-designated course in Emory College (must be completed prior to enrollment in the BBA Program)
BUS 365 Business Communications (BBA required core course)
In recognition of other forms of communication skills empahasized in the program, the third CWR is not required for BBA Students
Area IV. Mathematical and Quantitative Reasoning (MQR) (One course)
Please note: AP Calculus Credit or MATH 111 fulfills this area.
Area V. Science, Nature and Technology (SNT) (Two courses, one of which must have a lab)
Please note: ISOM 351 Process and Systems Management (required BBA core class) fulfills one non-lab course in this area. Completion of a lab science is highly encouraged prior to enrollment in the BBA Program.
Area VI. History, Society, Cultures (HSC) (Two courses)
Please note: ECON 101, ECON 112, and FIN 201 (BBA pre-requisites) and OAM 330 Organization and Management (required BBA core course) all fulfill one course in this area.
Area VII. Humanities, Arts, Performance (HAP) (Four courses; must include 2 courses in a single foreign language with possible exemption of one course by AP credit)
Area VIII. Personal Health (One course, one credit hour, Emory College students only. Oxford College students must complete an additional PE course in lieu of Personal Health.)
Area IX. Physical Education and Dance (Two one-hour courses may be taken on a satisfactory/unsatisfactory basis. Oxford students must complete 3 PE courses.) 
BBA Leadership Development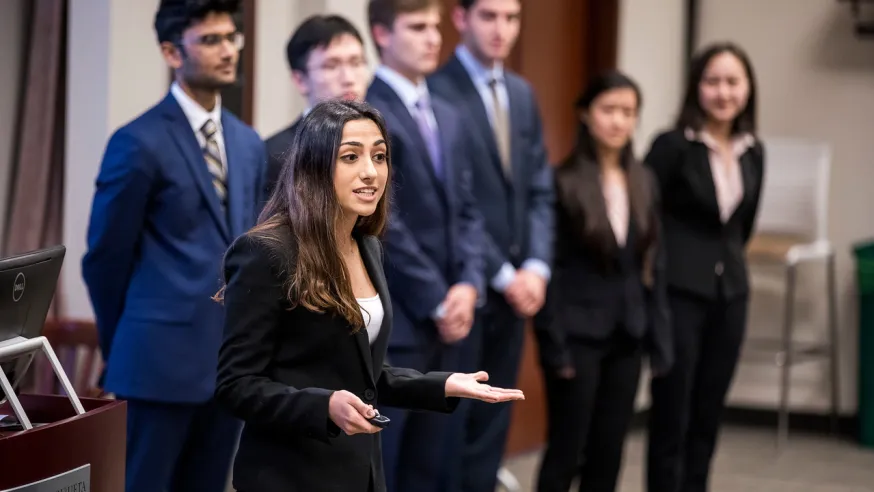 The mission of the Goizueta BBA Program is to help our students grow, intellectually, personally, and professionally so that they feel enabled, empowered, and motivated to make significant positive contributions to the organizations they serve and to society as a whole. The goal of the BBA Leadership Development programming is to enhance student self-awareness and cultivate each student's personal leadership abilities. The Goizueta Leadership Competency Model guides the program in identifying the specific competencies that BBA students most need to achieve these objectives.
Goizueta Business Library

Access research, databases, study spaces, and so much more.

Goizueta Business Library BBA Community

Learn tips and get resources tailored to BBA student needs.

Business Essentials Workshop

Sharpen research skills for critical thinking and earn a certificate.