Hispanic Heritage Month
Case Competition
September 20-22, 2018
Our third annual Goizueta Hispanic Heritage Month Case Competition partners with ALPFA-Atlanta and this year's lead sponsor: Steppingblocks.
The team criteria is as follows: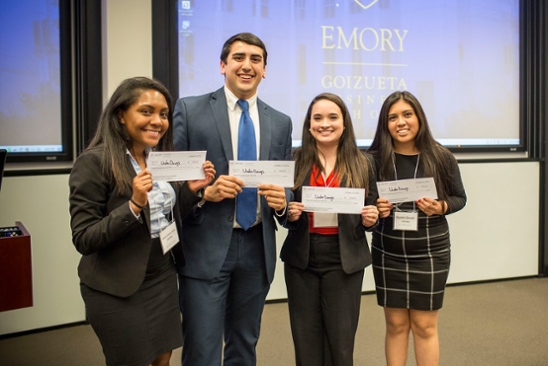 Teams of 4 undergraduate students
Teams should include at least 2 underrepresented minority students: African-American, Hispanic/Latino American, Native American/American Indian, Native Hawaiian, or Pacific Islander.
Teams must exhibit a passion for diversity, and particularly for Hispanic Heritage Month and the US Hispanic/Latino community. Teams are also encouraged to show diversity in academic and professional interests; students of all majors are encouraged to apply.
At most, 2 teams will be selected from each college/university.
Preference will be given to teams that have not previously competed in the Goizueta Hispanic Heritage Month Case Competition.
The deadline to apply is Wednesday, August 29. All teams will be notified by Wednesday, September 5. Please include a team name and group essay as part of your application.
Registration application is below.
Thursday, September 20
| Time | Event | Room |
| --- | --- | --- |
| 7:00-9:00pm | Kickoff Event at Atlanta Tech Village Community Center | |
| 9:00pm | Depart for hotel | |
Overnight Accommodations in Emory Conference Center Hotel
Friday, September 21
Time
Event
Room
8:30-9:00am
Registration, networking, and breakfast
W131
9:00-9:30am
Welcome and overview of agenda
9:30-10:15am
Steppingblocks: The Whats, Hows, and Whys
Dr. AJ Pryor, Lead Data Scientist at Steppingblocks
10:30-11:15am
Marketing Essentials Workshop
Dr. Douglas Bowman, Goizueta Business School Professor of Marketing
12:15-1:15pm
Lunch, MBA panel, and case reveal
1:15-5:00pm
Work on cases in teams
Various
5:00 - 6:00pm
Dinner & networking with MBA coaches & networking
W131
6:00 - 8:00pm
Work with MBA coaches
Various
8:00pm
Depart for hotel
Overnight Accommodations in Emory Conference Center Hotel
Saturday, September 22
Time
Event
Room
8:30-9:00am
Breakfast and Welcome
208
9:00-11:45am
Work on team presentations with MBA coaches
Various
12:00-1:00pm
Lunch & speech by Steppingblocks leadership
208
1:00-3:30pm
Presentations to Judges and Q&A
3:30-4:00pm
Judges Deliberate
Raffle & student celebration
4:00-4:30pm
Awards, pictures, and event conclusion
Steppingblocks is a digital career counseling and analytics software platform that provides real-world data and resources to set a career path.
Steppingblocks analyzes millions of professional paths to help students map the right choices for their career development.
---
The Association of Latino Professionals For America (ALPFA) was the first national Latino professional association in the United States, established in Los Angeles in 1972. The association's mission is: To empower and develop Latino men and women as leaders of character for the nation, in every sector of the global economy.
ALPFA serves more than 48,000 professional and student members across the country, and is growing every year. It provides networking, professional development opportunities, and summer internships through partnerships with Fortune 1000 companies.
ALPFA has chapters at Emory University, Georgia Institute of Technology, Georgia State University, Kennesaw State University, The University of Georgia, and other universities throughout the Southeast and nationwide.
ALPFA is proudly partnering with the Goizueta Business School for the Goizueta Hispanic Heritage Month Case Competition. Professional members of ALPFA will volunteer to provide networking, mentorship, and assistance to student teams throughout the weekend.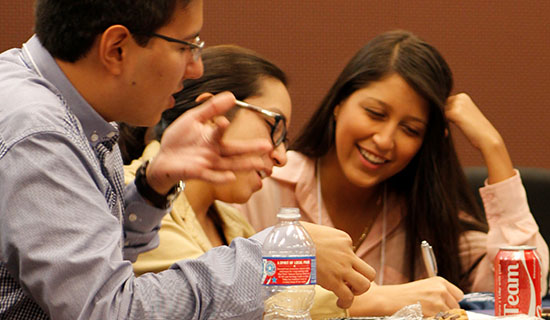 A case competition is an opportunity for students to work together to address business issues facing companies.
A "case" is a real-world business scenario, for which students propose a possible solution, based on information provided in the case and allowed outside resources. Teams will present their recommendations and analysis to judges in a formal presentation, followed by a short question-and-answer session.
Teams selected to participate in the Case Competition will attend important networking and preparation workshops on Friday, October 6. Teams will receive the case later that day and work with Goizueta MBA coaches. During the day on Saturday, October 7 students can consult with Goizueta MBA Coaches to perfect their recommendations and strategies, prior to presenting to judges.
Prizes
Prizes will be awarded to the top three teams, as decided by judges' scoring.
First Place: $3,000
Second Place: $2,000
Third Place: $1,000
Lodging
Accommodations will be provided for teams at the Emory Conference Center Hotel, conveniently located on Emory's campus in the Druid Hills neighborhood. Participants will have the opportunity to stay close to the business school and with their teammates. Transportation will be provided between the hotel and the business school during the weekend. Hotel parking is complementary.
More details related to transportation and lodging will be communicated directly to teams prior to the event.
Additional Guidelines and Tips
Team members may use reference sources in the public domain, such as books, the university business library, the internet, etc.
Being educated about current world issues is always an advantage.
Each team will choose a team name during registration. This team alias is the only one that should be used during the competition.
Teams are required to use PowerPoint or a similar program to aid in their case presentation.
Each team will have 8 minutes to present their case, with up to 4 minutes to field questions from judges.
We highly recommend that all team members participate in the case presentation.
Be prepared for the unexpected and have a back-up plan. For example, if technology fails, you may want to have hard copies of your presentation ready to hand out. Copies can be made on campus.
Business attire is appropriate for this competition.
Georgia State University Student, Class of 2017
"The Hispanic Heritage Month Case Competition is very meaningful to me. This allowed my peers and me to truly develop our presentation, research, and analytical skills. Besides having the opportunity to present our research to important companies, we also enjoyed great accommodations and first-hand insight from industry experts and current MBA students. I would recommend students to participate, as it is a great opportunity to learn, network and interact with present and future leaders."
James Madison University Student, Class of 2018
"Getting to work with the incredible faculty and current MBA students was my favorite part of the event. The Hispanic Heritage Month Case Competition helped me develop my presentation skills and the ability to transition my university studies into a real world application."